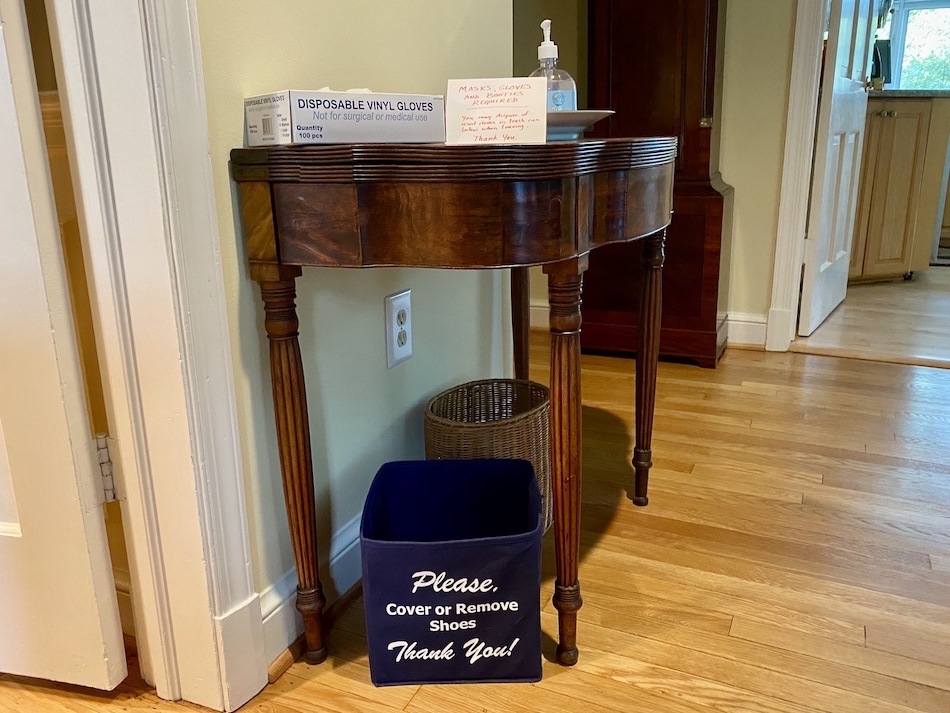 In-person open house: I just held my first in-person open houses since mid-March. The seller decided to stay with a family member the first few days his home was on the market, and allowed public open houses on the weekend to allow as many interested buyers as possible to see his home. To ensure everyone's safety, we did the following:
At the curb, a colleague of mine asked everyone to sign in on an individual card, each with a new pen. A socially-distanced line formed.
One person or family at a time entered the house (the same was true for showings by appointment during the week - no overlapping appointments). Each group toured the main level, then the upper level, the finally the lower level, and exited the house on the lower level. As soon as one group started down the stairs to the lower level, the next group was admitted.
Masks, gloves, and booties were required.
After the open house, I wiped all the door handles, knobs and light switches with anticeptic wipes, and collected used booties and gloves for disposal.
The house went under contract in 4 days!
Virtual open house: For sellers who simply prefer not to have a standard open house, there are options. In many cases professional photos plus a floor plan will suffice, and buyers who are serious about the property can arrange individual appointments. A pre-made video tour, an on-request FaceTime or Facebook or Zoom tour where potential buyers can ask questions, or a Matterport video tour that allows buyers to "walk" through the house online are other options, depending on the comfort level of the homeowner. We will work with you to maximize the marketing of your home while addressing your concerns related to Covid.
Buyers and the home search: During this difficult time, buyers are spending more time searching for properties and narrowing down their "must see" list online. During scheduled showings, I make sure everyone has masks and gloves and abides by any restrictions set by the homeowner. We make sure to stay socially-distanced, and go to showings in separate cars.
Bottom line: The local real estate market, especially for single family homes, has been robust, with low inventory and buyers often having to compete with multiple offers. With care and patience, we have been able to continue to help clients buy and sell homes, and take special care to keep eveyone safe.